About Ambresse.com
About Ambresse.com: This website is an informational website about American Bresse Chickens, and is produced by Ambresse Acres, a hobby farm featuring American Bresse Chickens.
Ambresse.com - Informational Website about American Bresse Chickens
Ambresse.com is an informational website about American Bresse Chickens. 

The new-to-North America chicken breed, American Bresse Chickens, is a very exciting and promising one! It brings to the poultry world in a single breed the very best of both egg-layers and meat birds. Especially meat birds. American Bresse chickens, properly finished, have been described as the most delicious chicken on the planet. 
The breed is an ancient one in France. It has recently been imported into the United States, where it is being called by a different working name in North America. Details of this history are here.
The mission of Ambresse.com is three-fold:
To educate anyone interested about American Bresse Chickens and their true value and usefulness to restaurants, including pricy gourmet restaurants, to self-reliant homesteads, and to homemakers. 


To support breeders in their day-to-day operations and decisions with regard to breeding stock choices, basic animal husbandry, and info about equipment, supplies, and housing.


To participate in the formation of an international American Bresse Chicken breed club serving the United States and Canada. Additionally, to support this breed club and its members as we enhance and improve upon the quality of American Bresse chickens.  
Ambresse.com's home page went live on August 17, 2021. A few days later, the history page went live, and then a few administrative pages like the Privacy and Contact Us pages. It was important to ensure an open channel of communication for anyone interested in American Bresse Chickens. 

American Bresse chickens, with bright red head dressings, all white plumage, and blue legs!
Ambresse.com is still a baby website...
We'll be adding information, photos, and webpages quickly, nearly every day.
If you'd like to know what this website may look like in a few more months or years, you can see examples in my other two websites, which are linked below: Raising-Rabbits.com, and MyPortAngeles.com.
Guest Post Opportunities:
Additionally, Ambresse.com will welcome guest authors, chefs familiar with serving American Bresse entrees, and American Bresse breeders to contribute guest posts on this website. Full attribution and links are always gratefully given. Feel free to contact me with article ideas or questions!
About Ambresse Acres
This Ambresse.com website is sponsored by Ambresse Acres. Karen Patry is owner, author, webmaster, as well as the main chicken keeper at Ambresse Acres. Karen will tell the rest of the story....
I became aware of the American Bresse breed by accident in 2020. At the time, the breed had been in the United States for only 9 years. Almost no one seemed to be aware of it.
For years my main focus was rabbits.
Karen Patry, owner of a happy flock of American Bresse chickens at Ambresse Acres, and author of Ambresse.com.
Up until 2020, I had spent much of my time writing a website about rabbits. This was because my husband's job driving large tractor-trailers for huge egg ranches precluded my ability to raise chickens lest he would accidentally track disease into their barns and cause bazillions of dollars in losses.

When he changed jobs, I went back to chicken-keeping as soon as I could, running barnyard chickens under the rabbit cages. It was perfect - they ate the flies, maggots, and bugs (even a mouse or two!), and churned up the rabbit droppings until they were perfect for the garden. The "free" eggs were a lovely bonus.

At any given time in those days, one could find more than a hundred rabbits in my barn, counting both adults and youngsters. I tended the rabbits, wrote website pages about every aspect of raising rabbits, and took thousands of photos.
Rabbit Raising Problem Solver, by Karen Patry, is available wherever good books are sold, including Amazon.com.
I invented an easy-to-use and easy-to-clean rabbit caging system, and wrote some more. 
www.Raising-Rabbits.com is the successful fruit of that labor, which also includes the publication of a very helpful book, Rabbit Raising Problem Solver, by Storey Publications, which is also the publisher of Storey's Guide to Raising Rabbits, and Storey's Guide to Raising Chickens. 
The Raising-Rabbits website now ranks within the top 0.05% of all websites for traffic as measured by Alexa.com (91,045 on 9/6/2021). It's pretty amazing...
Of course I'm gunning for the same success with Ambresse.com!
---
I'll never forget the fateful day that I heard someone say, "I raise American Bresse chickens."
Huh?? It was a Facebook convo, and virtually everyone on that thread was asking...
WHAT breed is THAT??
Being utilitarian by nature and more than a little interested in self-sufficiency, I was immediately fascinated by what I began to learn about the American Bresse breed.
I no longer have rabbits, but I'm LOVING the American Bresse. I have just a few barnyard chickens left (their eggs still taste great, so it's all good), and I'm now actively pursuing a selective breeding program with American Bresse.

Ambresse Acres is "ruled" by 3 roosters and 17 hens at the moment. There is lots of room to grow the flock, and lots of room for improvement in the flock itself. I am very excited for the challenges ahead.
I hope you will join American Bresse breeders and myself on the journey!

Karen's Two Other Websites...
Raising-Rabbits.com
Pictured: three of my beautiful Rex rabbits having a "Girls Day Outside."
---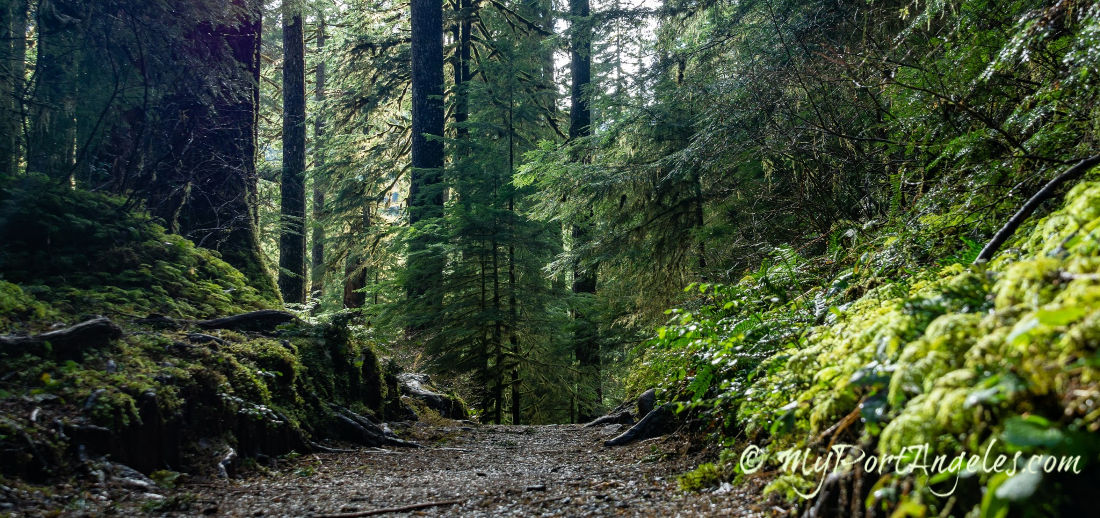 MyPortAngeles.com
Pictured: Trail to Sol Duc Falls, in the Olympic National Park.
This third website, www.myportangeles.com, was born out of the beauty of my home on the Olympic Peninsula in Washington State. Check it out! If nothing else, the photos are beautiful.