Ambresse Website Map
Welcome to the Ambresse.com website map! The Ambresse website is a young website, but we hope it will evolve to become an information source for all things related to American Bresse Chickens in the United States and Canada, or wherever American Bresse chickens come to be found.
Our birds are American Bresse!
Ambresse Home Page
American Bresse Chickens: The old but new, triple-purpose Chicken: Copious eggs, rapid growth to meat harvest, and ohmygoodness, fat-marbled flavor....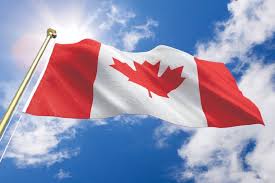 'American' includes Canada!
---
American Bresse - The Breed and the Breeders
American Bresse Chicken
A very new breed in North America, but very old in France. This is an overview of the American Bresse breed, descriptions, photos, chicks, eggs, and links to more detail.
American Bresse Chicken Breeders
American Bresse Chicken Breeders: List of breeders of American Bresse chickens in the USA and Canada, including photos, descriptions, and contact information.
American Bresse Chickens for Sale
American Bresse Chickens for Sale Classified Ads: Find American Bresse owners and breeders near you, plus list your want-to-buy American Bresse want ad here.
---
American Bresse Standard of Perfection
The draft SOP for the American Bresse Chicken breed, supporting their original unique homestead and gourmet restaurant qualities.
American Bresse Breed Club
The American Bresse Breed Club will become the national arm of American Bresse Chicken breeders in North America. Get Club progress and news here.
American Bresse Eggs
American Bresse Eggs - for breakfast, baking, and hatching. Find fertile American Bresse hatching eggs with the info and resources on this website.
---
Tinted eggs from white American Bresse chickens.
On Producing Quality American Bresse Chickens
Ambresse Acres has practiced selective breeding for years; the principles work very well in improving flock quality. It also helps to have at least a cursory understanding of the genetics underlying the bird's various phenotypes. We're not geneticists, so we are happy that the real experts were willing to lend their expertise to the conversation about genetics and selective breeding.
Selective Breeding
About selective breeding: The process that is meant to aggregate desirable genetics in your American Bresse chicken flock while eliminating negative genetic traits.
The Process of Selective Breeding
Examples of decision-making for breed excellence in American Bresse Chickens.
By Mandelyn Royal.
Resistance to Disease
Resistance to Disease: Grow a healthy flock of chickens by keeping only chickens with strong immune systems and great disease resistance. By Mandelyn Royal.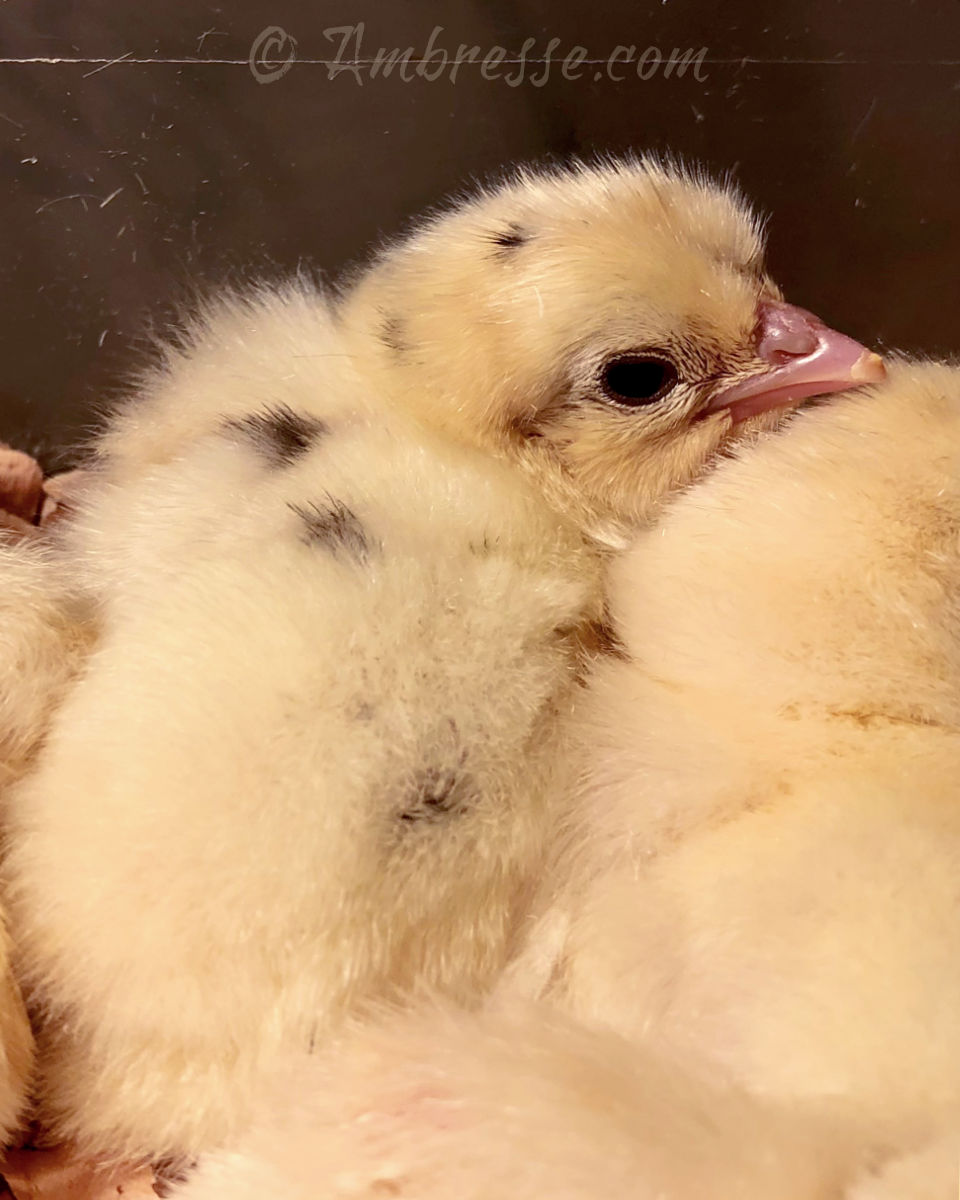 Black pigment leakage into white feathers.
American Bresse Genetics Questions
Several color flaws seem to be relatively common in white American Bresse birds, depending on the source of the birds. Identify these flaws and learn how to eliminate faulty genetics in order to improve your overall flock of American Bresse chickens.
White Genes in American Bresse Chickens
Why the French Bresse breeders use the Dominant White gene in the White Bresse variety and not the Recessive White gene. By Nancy Norwood.

Black Leakage in American Bresse
Learn the genetics that allow bleed-through of black pigment into white feathers, and how to eliminate black leakage. By Kerby Jackson.
Yellowing in White American Bresse
The how and why of yellowing in white feathers. Understand the underlying genetics of feather yellowing, and discover how to minimize or eliminate this unwanted trait. By Kerby Jackson.
Kerby Jackson, Geneticist
Forty-five years in the study and practice of poultry genetics means breeders of American Bresse and other breeders learn a lot when Mr. Jackson talks genetics.
Finishing the American Bresse before Processing
The concept of finishing is as new to the North American poultry world as the American Bresse breed of chicken is (since 2011). As American Bresse gain in popularity, the questions about finishing continue to mount. Ambresse.com helps answer the questions.
American Bresse chicken prepared in a mushroom wine sauce. Best ever!!
Finishing American Bresse Chickens 
Finishing American Bresse Chickens: What is finishing, how to finish American Bresse, plus all the conditions for finishing, including feeding, housing, lighting, and more.

American Bresse Finishing FAQs
Answers to Frequently Asked Questions about finishing. Why finish? Advantages of finishing American Bresse Chickens and answers to other common or pressing finishing questions.
French Bresse Finishing
Finishing in North America is based upon French finishing practices. This page outlines our understanding regarding French methods of raising poulet de Bresse, starting nearly from birth and ending at processing, including finishing, of course.

Is Fat Bad For You
Finishing American Bresse Chickens adds fat to the chicken meat. Is this bad for human health? There is considerably more to the story than fat-is-bad.
Give your Market Birds a Grand Finale!
Grand Finale Feed recipe card title.
Grand Finale Feed Recipe
Give your American Bresse meat chickens a grand finale! Ambresse Acres created an effective recipe which you can use to produce gourmet poultry. Available as an electronic PDF and as a physical card.
---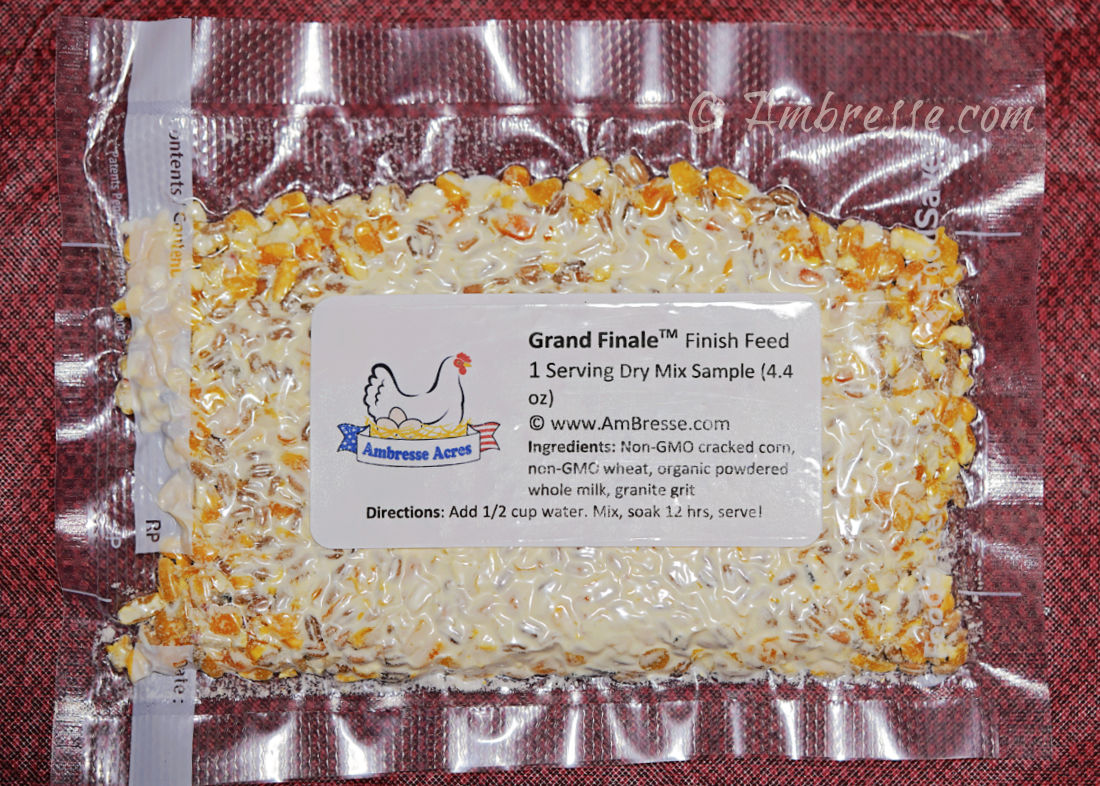 Grand Finale Feed sample package.
Grand Finale Finish Feed
Quick and easy dry-ingredient feed mix (just add water) is the final feed before processing. For finished, fat-marbled, gourmet American Bresse poultry. Available from Ambresse.com in 2-pound packages, enough to finish one cockerel.
---
Before Bresse Chickens Came to North America
The history of Bresse Chickens in France. Come to find out, the breed was held in such high esteem that attempting to recreate the genetic magic in North America became a thing....
French Bresse Chicken
The French Bresse Chicken: Brief history of the development of the ancient French Bresse breed of chicken, and how it made its way to America.
Blue Foot Chicken
Blue Foot Chickens: The history of an attempt to recreate the glorious French Bresse chicken in order to fill a gourmet niche in North America.
American Bresse Bounty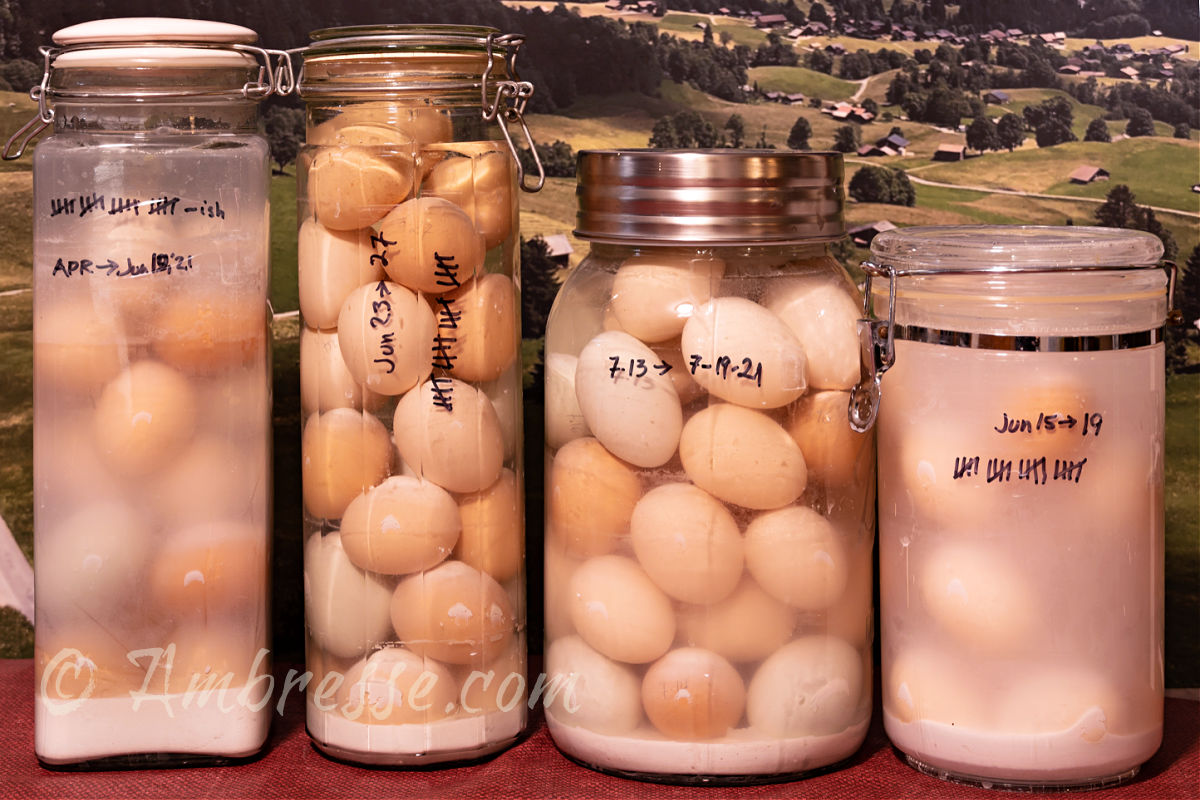 Eggs waterglassed by Ambresse Acres in WA.
Waterglassing Eggs
Waterglassing Eggs: Here is how to waterglass your extra eggs through the spring, summer, and fall so you'll have nearly fresh eggs to eat all year long.
---
The Small Print Regarding the Ambresse Website
Okay, so we'll make the print larger for your convenience...
About the Ambresse Website
About Ambresse the website, and about Ambresse Acres, which breeds American Bresse Chickens exclusively.
Privacy Policy.
Disclaimer.
Contact us with any comments or questions you may have...!
We have many more pages and topics to write about before we consider this website even on the path to completion. We hope you will bookmark this website and check back now and again so you can stay up to date on all the happenings in the world of American Bresse Chickens!
God bless you, and thanks for stopping by. Come again soon!
Foraging flock of American Bresse at Ambresse Acres in Washington State.