Grand Finale Feed Recipe Card
Grand Finale Feed Recipe Card: Give your American Bresse meat chickens a grand finale! Use our recipe to make finish feed for your birds!
---

---
American Bresse owners all across North America have been asking HOW the heck to finish their American Bresse chickens...
Early on, the Ambresse Acres team were asking the same questions. This put us on a  researching binge, because an excellent, easy to prepare recipe would make it so very easy to produce delicious gourmet poultry. Then breeders and their customers would be eating like the kings and queens of yore.

The Concept of Finishing Poultry
Honest-to-goodness finished Poulet de Bresse. Yum!
The concept of finishing poultry is new only in North America. (The Cornish Cross crowd certainly never inquire about finishing!)
In France, the French Bresse growers all finish their market birds, and partially for that reason (that and genetics), Poulet de Bresse is renowned around the globe as a premium product.
Here we are, 12 years after the first imports of Bresse chickens into North America, and American Bresse chickens are capturing the attention of chicken owners. A growing crowd of American Bresse growers are highly interested in learning how to authentically finish American Bresse meat poultry, even if only to decide for or against the practice for one's own personal use.
Poulet de Bresse logo on label.
Ambresse Acres scoured the internet, and especially the French Bresse pages, to learn how the original breeders do it, what their formulation is, and any tricks they employ to make it all work. After all, the French have practiced for hundreds of years how to produce the chicken product known globally as the best chicken in the world, "the queen of poultry, and the poultry of kings." 
Finished Bresse easily earn praise. Truly high praise is frequently rendered to gourmet chefs, such as the famous Michelin chef Georges Blanc, for their exquisite skill at preparing gourmet meals with Bresse chicken as a highlight.
We'll never be gourmet cooks, we feared, but at least a solid finishing feed recipe card would get us a little farther down the road toward deliciousness.
One of the very first finished American Bresse cockerels prepared at Ambresse Acres....Ohmygoodness the flavor!!
After all the research, we began finishing our birds in the same manner as do the French. Oh. My. Goodness.... The flavors are rich beyond anticipation.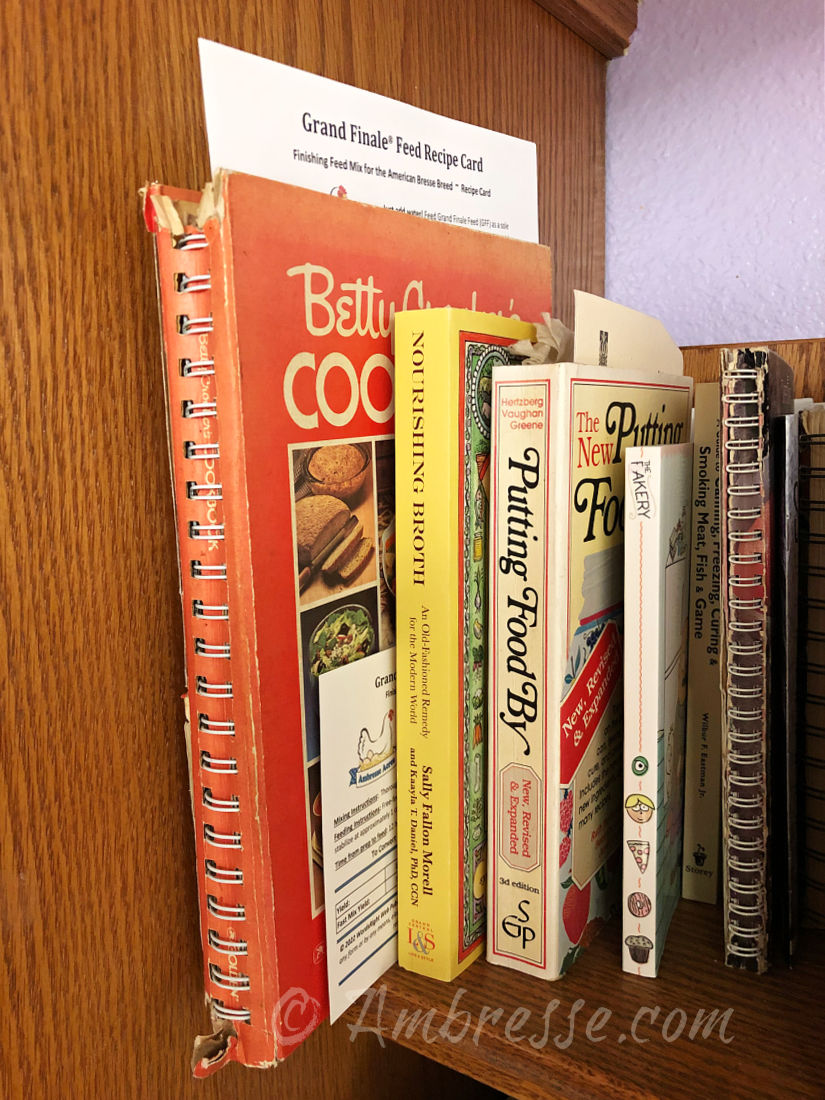 A full page GFF recipe card is tucked into the Betty Crocker cookbook, and a 5x7 card next to it, for easy grabbing.
We ate a LOT of finished American Bresse cockerels (no complaints here!) as we smoothed out the practice of finishing. It took many more drafts before we were able to eliminate the remaining question marks regarding the finishing formula. Good thing that we had MANY 15 and 16 week old cockerels to finish! We made batch after batch of finish feed, measuring, re-measuring, and finally standardizing a recipe for our use. 

It is so curious that a delicious finished American Bresse poultry meal never seems to get old!
Today I have a printed Grand Finale Feed recipe tucked into the old Betty Crocker cookbook. The recipe is nearly memorized by now, but the card is there to correct me if I forget an exact amount.
---
Let Us Share our Grand Finale Feed Recipe with You!
We call it Grand Finale Finish Feed. Or Grand Finale Feed (GFF). Or even simply Finale Feed, because our market birds eat very well for the last week of their lives. It's their grand finale.
Purchase a Grand Finale Feed Recipe Card and make it yourself! The card is inexpensive, and finish feed is quick and easy to make with the right ingredients on hand. 


Or if you prefer, we offer the Grand Finale dry mix, vacuum-sealed in 2-pound packages. One bag completely finishes ONE young cockerel to processing in 7-9 days, or, it will feed 7 cockerels for 1 day. We sure like keeping a few packages on hand while actively finishing our meat poultry.
The Purpose of Finishing Feed
The purpose of finishing feed is to provide the nutrients that optimize the Bresse genetics and increase the deposition of fat in the bird's body.
Therefore finish feed is the the sole feed when finishing American Bresse poultry, intended for the last one to four weeks before the date with the poultry processor. This feed is different from regular feed. Instead of a balanced feed, this feed consists of grains (we suggest corn and wheat) soaked in milk, which is exactly how the French farmers finish their poultry. It is higher in carbs and fats than the usual poultry feed.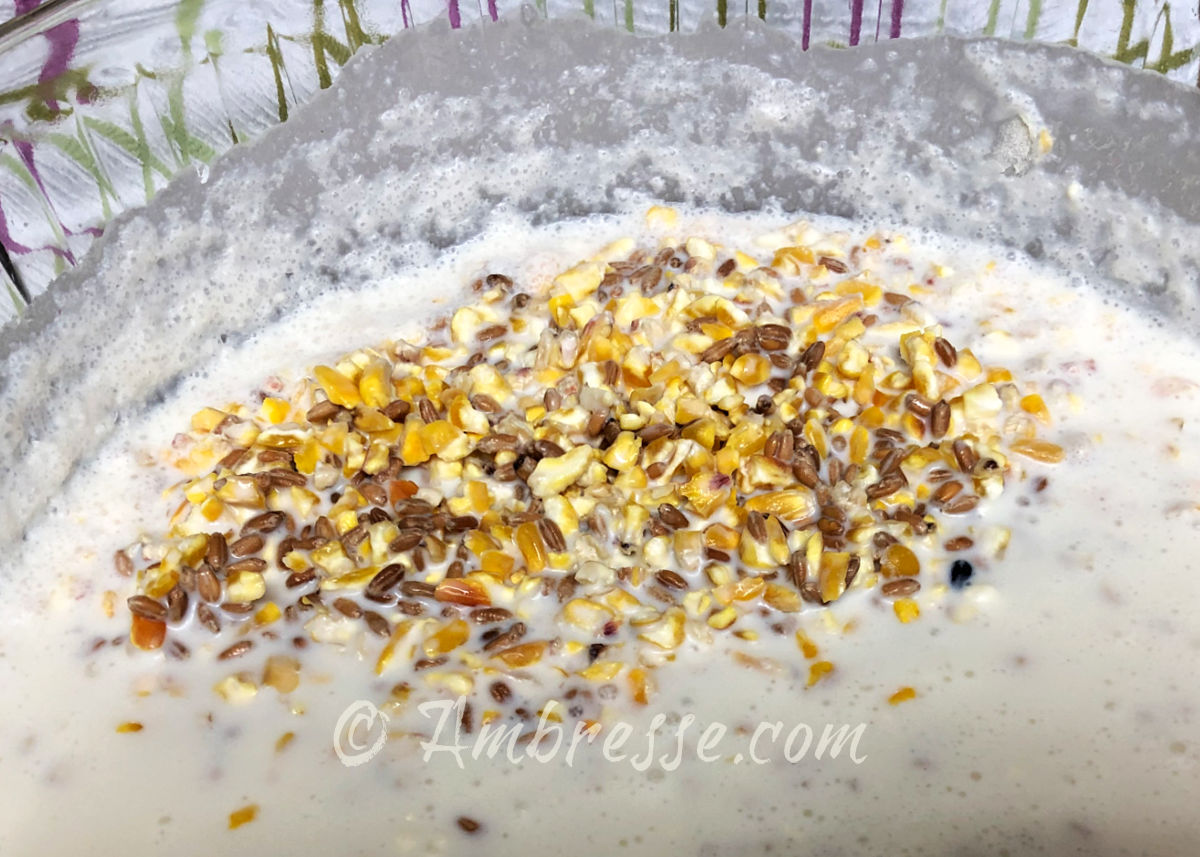 Grains soaking in whole milk.
With Grand Finale Feed, the chicken's body can take in and absorb the nutrition, resulting in fat deposition throughout the body of the American Bresse bird, in addition to some fat pads in the typical spots, such as around the neck and by the tail. 
It IS possible to finish other breeds of chickens. I just cannot say whether or not the genetics will be present to support the same fat-layering will occur in breeds other than Bresse.
Is the extra fat bad for you? Is eating grain-fed chickens bad for you? These and other questions are answered here. 
Finish feed is important to finishing, but additionally, finishing also includes caging in epinettes in darkened and quiet quarters. All of this encourages low energy output and higher intake of energy resulting in the aforementioned fat deposition. We cover nearly every detail of finishing at length on our Finishing American Bresse Chickens page.
That said, finishing is certainly not an absolute requirement, and many breeders do process without finishing. But many others do indeed enjoy the results of processing, as do we at Ambresse Acres.
This is where Grand Finale Finish Feed (GFF) comes in. It is closely patterned after the rations that French Bresse farmers have fed their Bresse poultry for the last five centuries or more. It works like a champ!
Get our recipe card, feed GFF to your own birds, and see (and taste) the results for yourself!
Purchase the Grand Finale Feed Recipe Card PDF
The recipe for Ambresse Grand Finale Finish Mix is available as an electronic PDF document, and also as a recipe card printed on sturdy card stock. 
Dry ingredients in a two-pound batch of Ambresse Grand Finale Finish Feed.
Grand Finale Feed Recipe Card Details
The recipe card lists quantities for 1 to 4 batches, and provides:
Yield - how many servings per each batch.
Yield when prepared with the "Fast Mix" method (results in more water absorption, increasing the yield).
Ingredients and amounts, in cups (we included a conversion chart if you prefer measuring in milliliters).
Water amounts for regular and fast mix variations, in quarts and liters, plus water amounts for individual servings, supposing you don't want to mix up the entire two pound package all at once.
Clear directions for mixing.
Instructions for a partially cooked, fast-mix variation.
Suggested substitutions for the powdered whole milk ingredient.
With this GFF recipe it'll be a snap to make finishing porridge for your own poultry!
Grand Finale Feed Recipe Card Formats
The recipe card is available in several formats!

1) As an electronic PDF document. 
The electronic file you will receive will contain BOTH formats in the same document:
A page that prints onto a standard 8.5"x11" sheet of paper, and a page sized and formatted to print on both sides of a large 5x7 recipe card
Print 2 copies, one for the kitchen and one for the barn. Reprint the recipe when you splash all over the prior copy!
2) If you prefer a PRINTED copy, we'll print it for you on Card Stock. 
You choose the format, and we'll print it: 8.5"x11" single sided, OR, double sided on a 5x7 recipe card.
We won't send you an electronic copy, just the printed recipe card of your choice.


Purchase Here: Grand Finale Finish Feed Recipe as an Electronic PDF
   Introductory Offer of 30% Off: 
You pay only $3.99  
$2.79

TWO Formats in ONE Electronic PDF Document!
Get one-sided PDF document printable on 8.5 x 11 inch paper AND
Two-sided PDF Document printable on 5 x 7 inch recipe card.
You will receive a link to your electronic PDF Recipe Card immediately upon payment. Buy Now!

Do You Prefer your Recipe Card Already Printed Out?
Purchase Grand Finale Feed Recipe Card Printed on Card Stock!
Introductory Offer of 30% Off: 
You pay only $3.99
$2.79
Choose your preferred format (or both!):
Printed on 8.5 by 11 inch card stock paper
Printed on both sides of an extra-large 5 by 7 inch recipe card

Mmmmmmm! Pass the finale feed!!

In Case You Wondered....
You Can Certainly Purchase Grand Finale Feed as a Dry Mix if you Like
Grand Finale Feed is Available as a Dry Mix
Learn more about Grand Finale Feed Mix, or purchase here! 
GFF is sold in 2-pound packages. Two pounds provides 7-9 days of finish feed, enough for a full course of finishing for one cockerel from start to processing (withhold feed for 12 hours before processing)

Unsure? Test Drive Grand Finale Feed with one-serving sample packs!

Grand Finale Feed Recipe Card

Copyright Notice: Grand Finale Finish Feed, the dry mix, and the recipe card is copyrighted © 2023 by Ambresse.com. All rights reserved. Do not reproduce in any form (except for personal use as purchased) without the express written permission of the author.